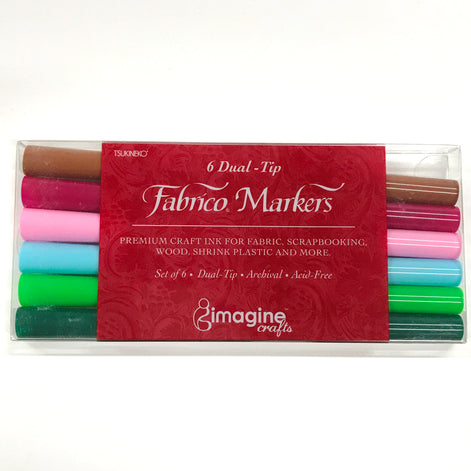 Availability:
Out Of Stock
Fabrico Markers - Arboretum

Description:
Fabrico Markers Set Of 6 - Arboretum.
This set includes the following colors:
– Burgundy
– Truffle
– Pale Aqua
– Spring Green
– Lipstick Pink
– Forest Green
Each marker features both a brush and bullet tip, specifically designed for smooth ink flow. They are perfect for adding details and creative lettering to your quilt projects. You can outline images, add intricate details, use a matching marker to extend images or use a dark color to create shadows. They work on a multitude of porous surfaces and are fade resistant and acid-free.
Please remember to always store your markers horizontally to keep both tips well inked. Do not attempt to re-ink your marker. Exposing either tip to water will damage pens.