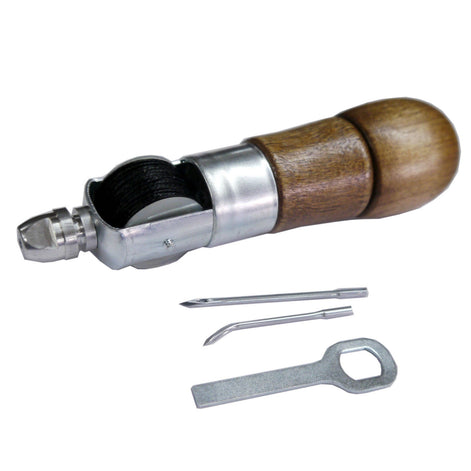 Availability:
291 In Stock
Description:
C.S. Osborne Automatic Awl.

An unusual tool for sewing leather, canvas and similar materials. The awl carries a spool of waxed polyester black thread on the handle. Hollow handle holds an extra curved needle and wrench. Directions furnished with each awl explaining how automatic awl lock stitch can be effected in repair work. Furnished with one straight (Osborne No. 413N 8) and one curved diamond point (Osborne No. 413N 6) needle. Made in USA.
Replacement needles and thread are also available. 

C.S. Osborne & Co. is a manufacturer of specialized hand tools designed exclusively for upholsterers, auto trimmers, awning and canvas workers, furniture makers and other professionals in related trades. For generations, the family run business has always taken great pride in engineering the highest quality tools and offering our products both here in the United States and abroad. C.S. Osborne produces the most extensive line of custom tools available -and we guarantee that our tools will deliver excellent quality and superior performance.