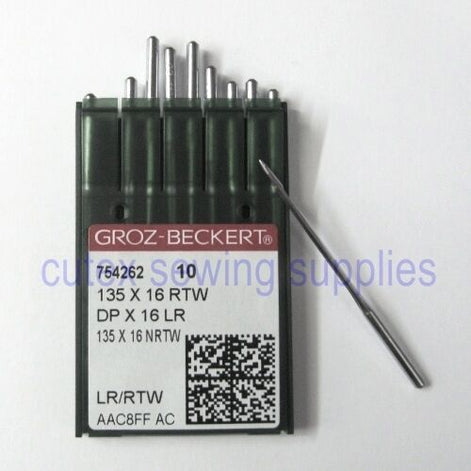 Availability:
5000 In Stock
Pack of 10 Groz-Beckert® Leather Sewing Needles For Walking Foot Machines.
Needle system : 135X16RTW, DPX16LR, 135X16NRTW
LR (RTW) Point. Cuts the leather to the right at a 45º angle in the direction of sewing. Slight to medium slanted stitch formation, depending on the leather. The sewn thread is slightly elevated. Stitch holes are easily visible. Suitable for short to medium stitches.
Application field : For the production of decorative seams on soft to medium/hard leather.
Example : Shoes, bags and leather garments, trekking shoes, suitcases and more.
These leather point needles fit sewing machines that use 135X17 (DPX17) system needles. These needles are identical to 135X17 regular point needles except for the leather point.
Groz-Beckert 135X16RTW point leather needles are available in following sizes. Lower size numbers are narrower or thinner needles used for lighter materials. Higher size numbers indicate a needle of thicker diameter, used for heavier materials. Match your needle system to your machine, then the size of the needle to the product you are sewing. Please select your size :
Singer Size 14 (Metric Size 90)

Singer Size 16 (Metric Size 100)

Singer Size 18 (Metric Size 110)

Singer Size 19 (Metric Size 120)
These leather needles will fit many models of Industrial & Domestic Walking Foot Machines, Bartack Machines and Double Needle Machines including :
Artisan : 29, 611, 618, 797, 2618, 2698, 4400, 4420, 6191
Brother : B220, B430, B838, B797, B798
Chandler : DY-337
Consew : 18, 28, 118, 120, 139, 206RB, 223, 224, 225, 226, 227, 229, 237, 239, 244, 254, 255, 277, 288, 289, 339, 358, 359, 382, CP206R
Cutsew : CS-888, CS-898
Feiyue : FY5318
Highlead : GC0318, GC0388, GC0389, GC0618, GC0668, GC20618, GC20638, GC20688, GC20698, GC24608, GC2268, GC22618
Juki : DNU-241, DNU-1541, LH-527, LH-1162, LH-1182, LK-980, LU-562, LU-563, LU-1510, LUH-521
Reliable : 2000U-33
Sailrite : 111, Big-N-Tall, Professional, Ultrafeed LS-1, Ultrafeed LSZ-1
Singer : 111G, 111W, 153W, 168G, 168W, 211A, 211G, 211U, 211W
Siruba : DBE, SBE
Yamata : FY5318
Zoje : GC0618, GD8-7
Any many more.
Please e-mail us with make/model of your sewing machine if in doubt. We stock many different style of sewing needles. Even if you don't find the one you are looking for, it does not mean we don't have it in stock. Please let us know with needle system (style) number and/or machine make & model and we will find one for you.