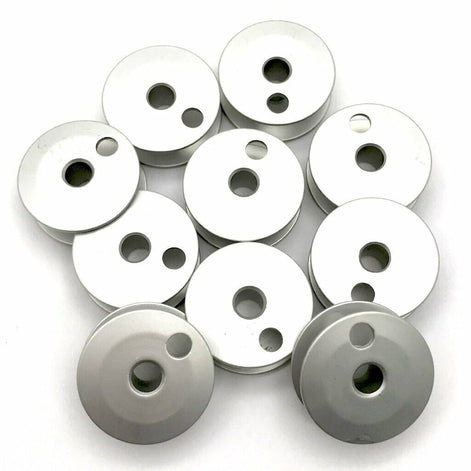 Availability:
50 In Stock
Aluminum Bobbins For Brother Sewing Machine
Description:
Pack of 10 Alumunum Bobbins For Brother Industrial Walking Foot Machines.

Bobbin part # : 155484-0-01 (155484001)

Bobbin measurement : 1-3/32" wide X 13/32" tall. 
These bobbins will fit Brother two-needle machines and upholstery walking foot industrial sewing machines with large capacity rotary sewing hook.
To verity compatibility with your sewing machine, please e-mail the brand & model number.

We stock many types of sewing machine bobbins and bobbin cases. Even if you don't find the one you are looking for, it does not mean we don't have it in stock. Please let us know machine builders' reference numbers and/or machine make & model and we will find one for you.