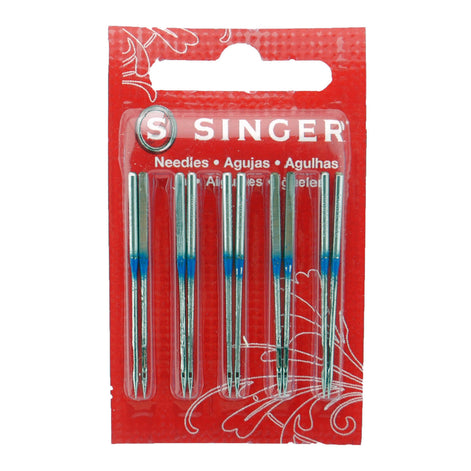 Availability:
Out Of Stock
Pack of 10 Genuine Singer 2054-42 Overlock Machine Needles.
Needle system* : 2054-42
Alternate needle number : 2054, 16X75, SLX75
*A needle system is a group of needles made to fit specific sewing machines. All needles in a system are of the same length and shank size, but are of various diameters. Lower size numbers are narrower or thinner needles used for lighter materials. Higher size numbers indicate a needle of thicker diameter, used for heavier materials. Match your needle system to your machine, then the size of the needle to the product you are sewing.
Singer 2054-42 needles are available in following sizes. Please select your size.
Singer Size 10 (Metric Size 70)

Singer Size 11 (Metric Size 75)

Singer Size 12 (Metric Size 80)

Singer Size 14 (Metric Size 90)

Singer Size 16 (Metric Size 100)
These are thin flat shank needles fit most Singer 14U series sergers.
Fits Singer models : 14U23A, 14U234, 14U244B, 14U286, 14U32A, 14U34(14U34B), 14U44, 14U44B, 14U46B, 14U65B, 14U85B, 14U234B, 14U285, 14U344, 14U344B, 14U354, 14U444, 14U454, 14U454B, 14U455, 14U544, 14U554, 14U555, 14U557, 14U594, 14U595, PRO4D
Note : These needles fit all Singer 14U overlock machines except : 14U12, 14U13, 14U22, 14U33, 14U52, 14U53, 14U64A
Fits Pfaff models : 756, 4762, 4772
We stock many different types of sewing needles. Even if you don't find the one you are looking for, it does not mean we don't have it in stock. Please let us know with needle system (style) number and/or machine make & model and we will find one for you.