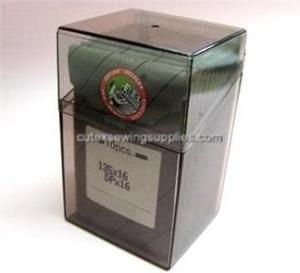 Availability:
398 In Stock
Brand New Box of 100 Organ® Industrial Sewing Machine Leather Point Needles.
Needle system : 135X16, DPX16
These leather point needles fit sewing machines that take regular 135X17 (DPX17) needles. These needles are identical to 135X17 (DPX17) regular point needles except for the leather point.
Leather needle has the shape like a wedge at the point which gives it superior piercing power for unyielding fabric such as real leather, suede or heavy vinyl. This needle makes a clean, large hole as it enters the fabric. It is better to tie or seal thread ends rather than backstitching to secure. Sew accurately since removing stitches and restitching will leave hole markings. Synthetic leathers and suedes can and should be sewn with standard needles.
ORGAN 135X16 leather needles are available in following sizes. Lower size numbers are narrower or thinner needles used for lighter materials. Higher size numbers indicate a needle of thicker diameter, used for heavier materials. Match your needle system to your machine, then the size of the needle to the product you are sewing. Please select your size :
Singer Size 14 (Metric Size 90)
Singer Size 16 (Metric Size 100)
Singer Size 18 (Metric Size 110)
Singer Size 19 (Metric Size 120)
Singer Size 20 (Metric Size 125)
Singer Size 21 (Metric Size 130)
Singer Size 22 (Metric Size 140)
Singer Size 23 (Metric Size 160)
Singer Size 24 (Metric Size 180)
Singer Size 25 (Metric Size 200)
These leather needles will fit many models of Industrial & Domestic Walking Foot Machines, Bartack Machines and Double Needle Machines including :
Artisan : 29, 611, 618, 797, 2618, 2698, 4400, 4420, 6191
Brother : B220, B430, B838, B797, B798
Chandler : DY-337
Consew : 206RB, 223, 224, 225, 239, 244, 254, 255, 277, 288, 289, 339, 358, 382
Feiyue : FY5318
Juki : DNU-241, DNU-1541, LH-527, LH-1162, LH-1182, LK-980, LU-562, LU-563, LU-1510, LUH-521
Singer : 111G, 111W, 153W, 168G, 168W, 211A, 211G, 211U, 211W
Yamata : FY5318
Any many more.
Please e-mail us with make/model of your sewing machine if in doubt. We stock many different style of sewing needles. Even if you don't find the one you looking for, it does not mean we don't have it in stock. Please let us know with needle system (style) number and/or machine make & model and we will find one for you.