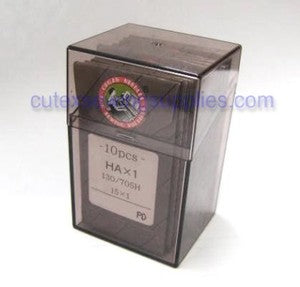 Availability:
1000 In Stock
ORGAN 15X1 TITANIUM HOME MACHINE NEEDLES
Description:
100 ORGAN® TITANIUM NEEDLES
Flat shank for the home sewing & embroidery machines
This listing is for a box of 100 Perfect-Durability (PD) Organ® Titanium Flat Shank needles for most home sewing machines and home sewer based embroidery and quilting machines including Babylock/Simplicty, Bernette, Brother, Bernina, Elna, Happylock, Janome, Juki, Mammylock, Necchi, New Home, Pfaff, Riccarlock, Simplicity, Singer, Toyota, Viking, White and many other.
~~~ Lasts five Times Longer Than Chrome-Plated Needles ~~~

Needle system* : 15X1 Titanium Needles

Also sold under needle style number's : HAX1, 130/705H, SY2020, SY2031, 206X15, PFX130, canu 22:15
Organ® 15X1 titanium needles are available in following sizes :
Singer Size 9 (Metric Size 65)

Singer Size 10 (Metric Size 70)

Singer Size 11 (Metric Size 75)

Singer Size 12 (Metric Size 80)

Singer Size 14 (Metric Size 90)

Singer Size 16 (Metric Size 100)

Singer Size 18 (Metric Size 110)
You will receive 100 needles in same size. Please choose from above available sizes.
*A needle system is a group of needles made to fit specific sewing machines. All needles in a system are of the same length and shank size, but are of various diameters. Lower size numbers are narrower or thinner needles used for lighter materials. Higher size numbers indicate a needle of thicker diameter, used for heavier materials. Match your needle system to your machine, then the size of the needle to the product you are sewing.
Organneedle company has managed to combine the functionality of sewing machine needles with the latest technology of ceramic coatings. These new PD (Perfect Durability) needles have titanium-nitride layered on their surfaces to extend their productive life by as much as five times that of conventional needles.
Perfect Durability (PD) needles have a titanium-nitride ceramic finish which makes them more wear-resistant than any other needles. When embroidering large stitch patterns or penetrating very abrasive, dense or tough materials the needle points and surface will maintain its original shape and dimensions 3 to 5 times longer. PD needle points will not wear down as fast as chromium plated needle points. The use of PD needles gives you longer needle life, fewer defects due to "dulled" needle points, and increased productivity.
Using PD needles means better quality stitches, less downtime, higher productivity and lower cost production.