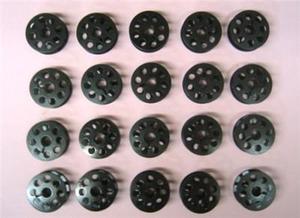 Availability:
1123 In Stock
PACK OF 20 LARGE BOBBINS FOR INDUSTRIAL
SEWING MACHINES

Description:
Pack Of 20 Brand New Large Capacity (M Size) Bobbins For Industrial Sewing Machines.
Bobbin #18034.

Bobbin measurement : 1" diameter, 3/8" thick.

This popular bobbin is also sold under these numbers :
DO-DBM(1)N, 117061-001, R1143, 18034, B9117-201-000, MF25B0123, 201143000
Bobbin color may vary. 

These high quality bobbins will fit industrial sewing machines including :  
Brother : B745, B747, B791, B792, B797, B798
Chandler : DY-337
Consew : 204RB, 205RB, 206RB, 208RB, 306RB
Feiyue : FY5318
Gammill : Quilters
Golden Wheel : CS-305L, CSU-4100H, CSZ-3211
Janome : DB-J706S
Juki : DNU-241, DNU-1541, DU-141H
Meistergramm : M800XL
Mitsubishi : DY-330, DY-337, DY-340, DY349
Nakajima : 180L, 280L, 280LY, 321L, 341L, 381L, 580L, 680L, 880L, DBU-70L
Nitaka : DY-350L, 370L
Rex : 11-155
Seiko : H-2B, HC-2BL, HCL-2BL, LCW Series, LSC-8BL, LTW-27BL, NCL-2BL, STH-3BL
Sunstar : D-146BL, KM-340BL, KM-380, KM-390, KM-590BL
Tacsew : T111-155
Unicorn : DB2-H312, DY-H340, LS2-H540
Yamata : FY5318
And many more.

We stock many different types of sewing machine bobbins. Even if you don't find the one you are looking for, it does not mean we don't have it in stock. Please let us know machine builders' reference numbers and/or machine make & model and we will find one for you.