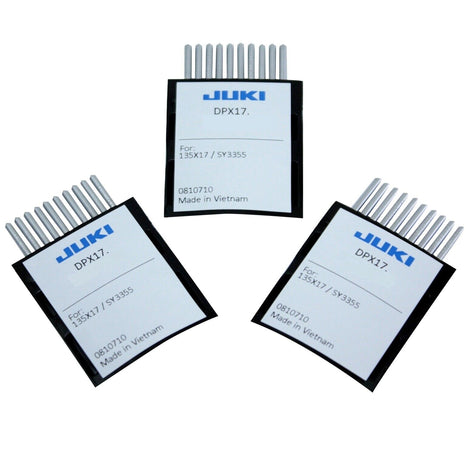 Availability:
1000 In Stock
Pack of 30 Genuine Juki Sewing Machine Needles for Walking Foot Machines.

Use genuine Juki needles to get best stitch results from your Juki sewing machine!

Needle System : 135X17, DPX17

Also sold under needle numbers : 135X17, 2167, DPX17, SY3355, 335-0311

Juki 135X17 needles are available in following sizes. Please select your size :

Singer Size 12 (Metric Size 80) Light fabrics
Singer Size 14 (Metric Size 90) Light to medium-light work
Singer Size 16 (Metric Size 100) Medium weight fabrics
Singer Size 18 (Metric Size 110) Medium to medium-heavy fabrics
Singer Size 19 (Metric Size 120) Medium-heavy to heavy fabrics
Singer Size 20 (Metric Size 125) Heavy fabrics
Singer Size 21 (Metric Size 130) Heavy fabrics
Singer Size 22 (Metric Size 140) Heavy fabrics
Singer Size 23 (Metric Size 160) Extra-heavy fabrics
Singer Size 24 (Metric Size 180) Extra-heavy fabrics
Fits Juki models : DNU-241, DNU-1541, DU-1181N, LH-517, LH-518, LH-527, LH-1162, LH-1182, LK-1903, LU-562, LU-563, LU-1508, LU-1510, LU-1560, LUH-521, LUH-562, MOL-100PA, MOL-100PSA, MOL-254

The Juki 135X17 needles are mostly used on walking foot machines, Bartackers and programmable pattern sewing machines.