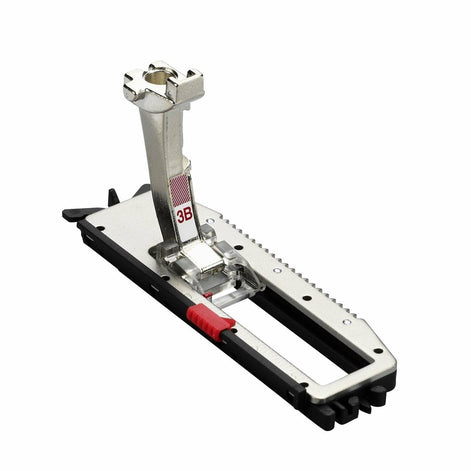 Availability:
Out Of Stock
Buttonhole Foot with Slide (#3B) For Bernina Sewing Machines.
Buttonhole Foot with Slide #3B makes it easy to sew buttonholes of the same length. With buttonhole foot #3B, the desired length is manually set beforehand with the aid of the marking on the scale. This allows perfectly identical buttonholes to be sewn again, until the size is changed. This foot is ideal for sewing button plackets on garments and home furnishings.
Part # : 0313327000
Alternative numbers : 0313327100, 031332.71.00
Genuine Bernina Parts.
Fits Bernina New Style machines including : B215, Activa 125, Activa 130, Activa 125S, Activa 135, Activa 135S, Activa 140, Activa 145, Activa 145S, Activa 210, Activa 220, Activa 230, Activa 230PE, Activa 240, Artista 165, Artista 170, Artista 180, Artista 185, Artista 200, Artista 630, Artista 640, Artista 730, Aurora 430, Aurora 435, Aurora 440QE, Aurora 450, B330, B350, B350PE Patchwork Edition, B350SE Best Friend, B380, B530, B530SE, B535, B550QE, B555, B570QE, B560, B580, B590, B720, Virtuosa 150, Virtuosa 153, Virtuosa 153QE, Virtuosa 155, Virtuosa 160, Virtuosa 163
Also compatible with all new style sewing machines. To verify compatibility to your sewing machine, please e-mail with model number.