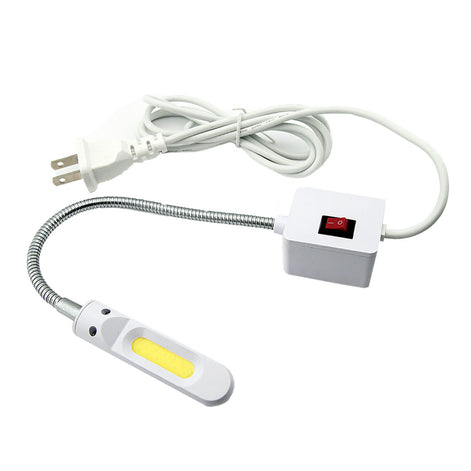 Availability:
430 In Stock
Super-Bright COB LED Sewing Machine Light With Magnetic Mounting Base.
Create a brighter and more spacious work area. Lights can be mounted on the head, run much cooler than traditional lights and have the ability to illuminate the working area from both sides of the needle utilizing minimal space. Can be used on any sewing machines including industrial & home sewing machines.
One of the most recent developments in LED, COB or "Chip on Board" technology is a step forward more efficient energy use.  COB chips typically have 9 or more diodes. COB chips also only have 1 circuit and 2 contacts, regardless of the number of the diodes. This simple circuit design is the reason for the panel-like appearance of COB LED light (standard LED light, on the other hand, appears like a collection of smaller lights).
Can be placed at the best lighting position with strong magnet

Super bright COB LED

More soft light, wide area of exposure

11" Flexible / Bendable gooseneck

Energy saving, save up to 90% energy

On/Off Switch

4.5 ft. Power cord

Power : 3W

110 -240Volt

Connects to AC wall outlet