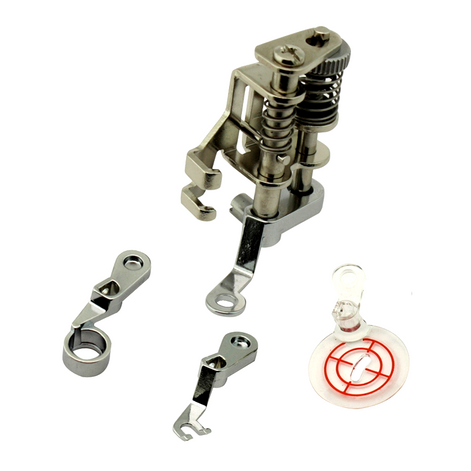 Availability:
47 In Stock
Convertible Free Motion Quilting Foot Set for Low Shank Models.

The set includes four different feet that attach to the holder with a screw for maximum sturdiness and safety.
Feet included in the package are: 
Quilting Foot - This foot is for free-motion stitching on the machine and supports fabric when using a straight stitch.

Echo Quilting Foot - Give quilting patterns, applique designs and other items a gorgeous frame of echo patterns with this great foot. The built-in clear disk with measured guides helps to create perfect, free-motion "ripping" effects with even spacing and accurate stitching.

Open Toe Quilting Foot - This foot offers excellent visibility while free-motion quilting on your machine.

Ruler Foot - Quilt beautiful designs using rulers and acrylic templates with the ruler foot.
Fits Elna Models : 6005 Heirloom, eXperience 520s, eXperience 540s, eXperience 550, eXperience 560, eXperience 570, eXcellence 720PRO, eXplore 150, eXplore 160
Fits Janome models : 1117S, 128, 1860, 2003P, 2018S, 2030DC, 2039SN, 2040, 2041, 2041LX, 2041NX, 2041S, 2041SX, 2049LX, 2049NX, 2118S, 2139N, 2139S, 2141S, 2149SX, 2160QDC, 2206, 2212, 2222, 222A, 3128, 3160QDC, 360, 380, 381, 4045LX, 4045NX, 4048, 405, 41012, 4119(Quilter's delight), 4120QDC, 415, 419S, 423S, 4612TM, 4618LE, 4623LE, 49018, 49360, 5027, 509, 521, 525S, 530, 531, 5812, 6019QC, 6050, 609, 609NH, 6100, 611, 6125QC, 618, 619, 620, 621, 623, 625(old), 625E, 625FA, 626, 6260QC, 630, 631, 632, 639(Jem), 640, 641, 642, 651, 652, 653, 656, 657, 657A, 659, 660 Jem Gold, 661 Jem Gold 2, 661(Old), 661G Jem Gold Plus, 662 Jem Silver, 665 Jem Gold III, 680, 681, 681D, 684, 692, 693, 7061NX, 710, 712T, 7306, 7312, 7318 Magnolia, 7325 Magnolia, 7330 Magnolia, 7360 Magnolia, 763, 791FA, 793, 795FA, 802, 803, 8048 Harmony, 8050, 8077, 808, 8080, 808A, 844, AMH-M100 Anna Maria Horner, AQS2009, CE2200, Classmate S-750, COMBI 10, DC1018, DC1050, DC2007LE, DC2010, DC2011, DC2012, DC2013, DC2014, DC2015, DC3018, DC3050, DC4030, DC4030P, DC5100, DE5018, DE5024, DE5124, DS3500, DX2015, DX2022, DX2030, DX502, FA772, Harmony 4052LX, Harmony 1017, Harmony 2041, HD1000, HD3000, Hello Kitty 11706, Hello Kitty 13512, Hello Kitty 14412, Hello Kitty 15312, Hello Kitty 15822, Hello Kitty 18750, Hello Kitty Full Size, HF1012, HF106, HF107, HF2022, HF3000, HF3022, HF3125, HF4045LX, HF5024, HF8077, HF-RE1706, HT2008, HT2008LE, JA104, JA106, JA1502, JA1504, JA1506, JA1508, JA1510, JA1512, JA1518, JA1804, JD1803, JD1806, JD1810, JD1812, JD1814, JD1816, JD1818, JD1822, Jem Lite, JF1004, JF1012, JF1014, JF1018, JF1018S, JF1022, JP720, JP760, JS1003, JS1004, JS1008LE, JW5622, JW7630, L108, L109, L110, L344, L352, L353, L372, L373, L392, L393, LR1612, LR1616, LR1618, LR1622, MC2400, MC3000, MC3500, MC4000, MC4400, MC4800, MC4800QC, MC4900QC, MC5001, MC5002, MC5200, MC5500, MC6000, MC6300P, MC6500P, MC7000, MC7500, ME4014, ME4018, ME4123, ML3023, MO200, MOD-100, MOD-15, MOD-19, MOD-30, MS-3015, MS-5027, MyStyle100, NH2014, NPCF-50, NQM2016 National Quilt Museum, QS2250, RX18, RX18S, RX22, S2015, S-3023, S-650, S-950, Schoolmate S-3015, Schoolmate S-7330, SD2014, Sew Precise, Sewist 500, SL2022, SR2000, SR2100, SS2015, SW2018E, TB12, US2022, XL601
Part # : 202-002-004 (202002004)