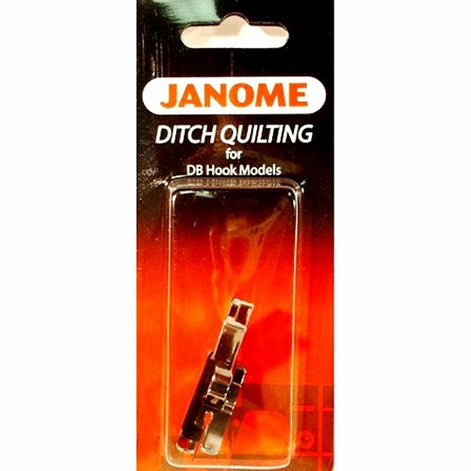 Availability:
Out Of Stock
Ditch Quilting Foot For Janome 1600P Series
Description:
Ditch Quilting Presser Foot For Janome 1600P Series Machines.
Stitch In The Ditch / Edge-Joining Foot For High Shank Machines. For even-sided stitching when joining two pieces of fabric, lace, or trim, try this edge joining foot. It's also great for narrow edge stitching and stitching seams directly into the ditch. Use this foot for perfect placement when stitching in the ditch. The guide follows the seamline keeping the stitch line perfectly straight.
Fit Brother models : PQ1300, PQ1500, PQ1500S

Fit Janome models : 1600P, 1600P-DB, 1600P-DBX, 1600P-QC900CPX, 763, 806, DBJ628, DBJ701, DBJ706, DBJ707, DBJ708, DBJ806
Fit Juki models : DDL Series, TL-98 Series, TL-2000Qi, TL-2010Q
And many more.

Genuine Janome Parts.
This foot will also fit many other Household and Industrial sewing machines with high shank presser foot system - 1 inch tall, from the center of the fastening screw to foot bottom.  Please e-mail with make/model of your sewing machine if in doubt.