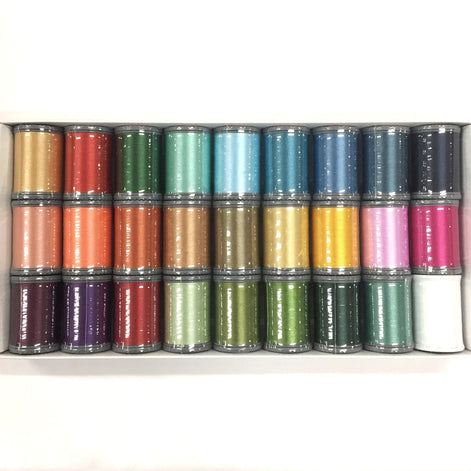 Availability:
Out Of Stock
Janome Polyester Embroidery Thread Set #2
Description:
Janome Polyester Embroidery Thread Set #2.

These Janome polyester embroidery threads are designed to be used with all Janome embroidery machines. Janome thread gives your stitching a stunning sheen in a rainbow of vivid colors. It is designed specifically for professional-style embroidery and decorative stitching with Memory Craft machines. The 100% shrink and fade resistant polyester is static free for better embroidery performance. Our specially boxed thread assortments give you 27 spools for unlimited creativity. The thread is manufactured in Japan.
This second assortment pack comes with the following thread colors: Bamboo #224, Red #225, Green #226, Pale Aqua #227, Baby Blue #228, Powder Blue #229, Bright Blue #230, Slate Blue #231, Navy Blue #232, Salmon Pink #233, Coral #234, Burnt Orange #235, Cinnamon #236, Umber #237, Blond #238, Sunflower #239, Orchid Pink #240, Peony Purple #241, Burgundy #242, Royal Purple #243, Cardinal Red #244, Opal Green #245, Moss Green #246, Meadow Green #247, Dark Green #248, Aquamarine #249 & Bobbin Thread.

Genuine Janome Item #200920104.