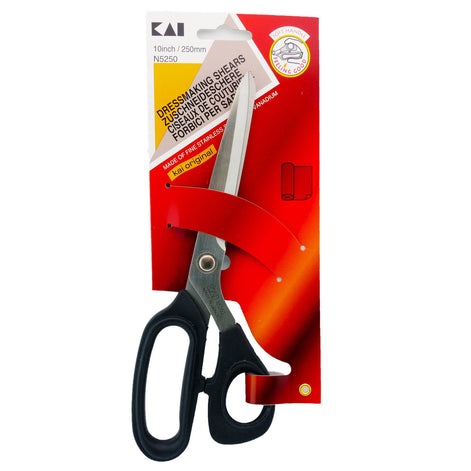 Availability:
Out Of Stock
Description:
Kai 10-inch Dressmaking Shears.
The Kai 5250 10-inch scissor has ergonomically soft handles which allow fatigue-free cutting on all types of fabric. Cuts multiple layers of denim with ease while trimming cottons without any fabric slippage.  

Heavy duty blades for a powerful cut. Larger handle grips to reduce stress for fatigue free cutting.

The Kai 5000 Series scissors are made of a hardened stainless steel.  The smooth, sharp blades gives the Kai scissors an amazing smoothness in cut and feel.
Ergonomically soft handles, fatigue free cutting on all types of fabric

Cuts multiple layers of denium with ease while trimming silks without any fabric slippage

Total length : 10"

Made in Japan