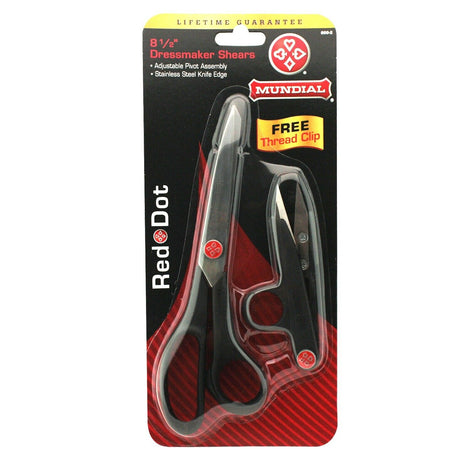 Availability:
20 In Stock
Mundial 8-1/2" Red Dot Stainless Lightweight Dressmaker Shears with Free Thread Clip.



MUNDIAL Red Dot scissors and shears begin with fine stainless steel which is ground, honed, polished, adjusted, tested and inspected by cutlery artisans to meet exacting quality standards.

Full Length : 8-1/2" (210mm)

Cut Length : 3-5/8" (92mm)

Non-slip handle

Stainless steel knife edge

Free Mundial Red-Dot Lightweight Thread Clip

The most popular style of shears, the 8-1/2" dressmaker is useful for almost any sewing or quilting project! As part of Mundial's lightweight Red Dot line, these shears have a matte black polypropylene handle and stainless steel blades. Its knife edge features a precision cut blade that glides through fabric easily and cleanly to the very tip. Perfect for the sewing enthusiast who prefers a lightweight option but expects the highest quality.