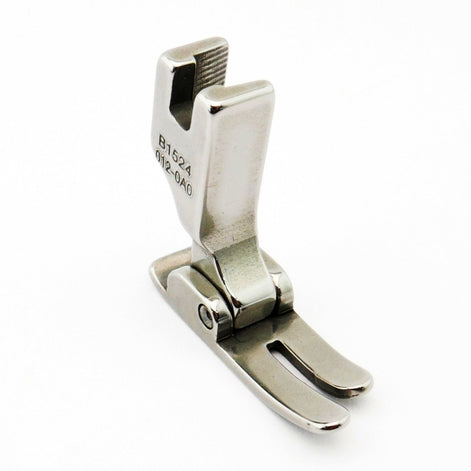 Availability:
428 In Stock
Presser Foot For Juki Sewing Machine
Description:
Standard Hinged Presser For Juki Industrial Single Needle Sewing Machines.

Part # : B1524-012-0A0
Standard presser foot with tail used on single needle machines for light and medium work where reverse sewing over bulky seams is required. The foot is hinged for easy sewing over seam and uneven surfaces. 

Fit JUKI models : DDL-127, DDL-227, DDL-500, DDL-552, DDL-553, DDL-555, DDL-5550, DDL-5600, DDL-8300, DDL-8500, DDL-8700, DDL-8900, DDL-9000, TL98E, TL98Q, TL-2000Qi, TL-2010Q

This foot will also fit many other Household and Industrial sewing machines with high shank presser foot system - 1 inch tall, from the center of the fastening screw to foot bottom.  Please e-mail with make/model of your sewing machine if in doubt.