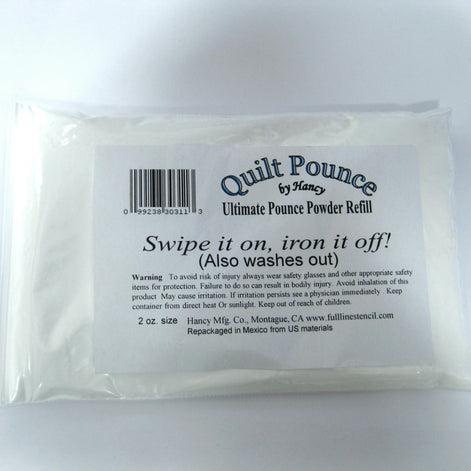 Availability:
48 In Stock
Quilt Pounce White Chalk Refill

Description:
Quilt Pounce by Hancy Ultimate Pounce Powder Refill.
It adheres exceptionally well to fabric with minimal bouncing when sewing along the stencil lines. Best of all, when you're doen stitching your design, you simply run your heated iron over the lines and the powder disappears without a trace. It also brushes or washes off. 2 oz. packae. White.

White chalk powder refill for Quilt Pounce.

Contains one 2 oz bag of chalk refill.

White powder comes off simply by ironing over quilt

Stays put on fabric

Use for machine and hand quilting.