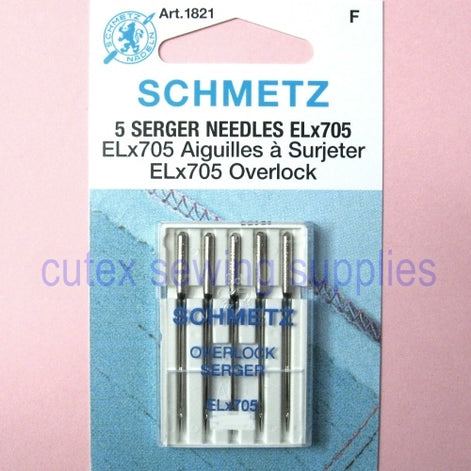 Availability:
4990 In Stock
Schmetz ELX705 Serger Needles
Description:
Pack of 5 Schmetz ELX705 Overlock Serger Needles. 

Needle System : ELX705 (Same as Singer# SY2922 & 2022)

Schmetz ELX705 needles are designed for use in electronic multi-purpose sergers that do overlock stitches. Not suitable for use in home sewing machines or embroidery machines. Machine should specify ELX705.                    
Schmetz ELX705 needles are available in following sizes. Please select your size.
Size 80/12

Size 90/14

Assorted size pack (2 X #12, 3 X #14)



Lower size numbers are narrower or thinner needles used for lighter materials. Higher size numbers indicate a needle of thicker diameter, used for heavier materials.