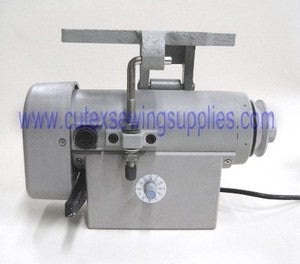 Availability:
940 In Stock
VARIABLE SPEED SEWING MACHINE MOTOR

Description:
Industrial Sewing Machine Electric Servo Motor.
Servo motors use less electric than a standard clutch motors. External speed control allows you to slow down your unruly machine. Motor is silent when pedal is not depressed.
Great low end torque and stable speed control

Improved low speed control

Noiseless motor operation

60% power consumption savings over standard clutch motor

Variable speed motor control and easy to adjust speed top speed control knob

Used same mounting holes as standard clutch motor

No clutch or brake disk required, can turn machine handwheel easily to position needle

Switched internal in 110V standard light blub socket

110 Volt, 3/4HP, 550 WATTS


Net Wt 7.5 Kg
Great for any type of industrial sewing machines for light to heavy duty work including straight stitch machines, overlocks, zigzag stitching machines, blindstitch machines, heavy duty walking foot and heavy duty upholstery machines.
Shipping :
Free ground shipping in the 48 continental USA. Free shipping does not apply to AK, HI, PR, GU, VI and other US territories.