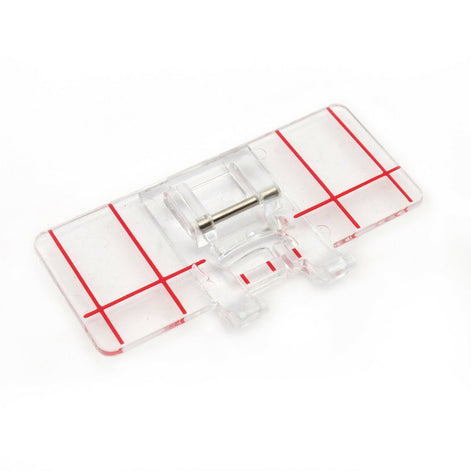 Availability:
50 In Stock
Janome Border Guide Foot For 9mm Max Stitch Width Machines.  
Janome Part # : 202084000
Alternate part number : 202084206
Having problems lining up or evenly spacing your border designs? Now the Border Guide Foot helps you to easily match up your border designs with the red lines of the foot. No need to mark every row beforehand! The secret to the border guide foot lies in the red guide marks. The two sets of vertical red lines are calibrated to allow perfect spacing of rows. The horizontal red line matches the needle drop so you can line up the start of each row. The small red mark denotes the center of the design for lining up with the marking for the first row.
Fits Elna models : eXcellence 680, eXcellence 720PRO, eXcellence 730PRO, eXcellence 760PRO, eXcellence 780, eXpressive 860, eXpressive 900, eXpressive 920
Fits Janome models : Horizon Memory Craft 12000, Horizon Memory Craft 15000, Horizon Memory Craft 8200QCP Special Edition, Horizon Memory Craft 8900QCP Special Edition, Skyline S3, Skyline S5, Skyline S7, Skyline S9.