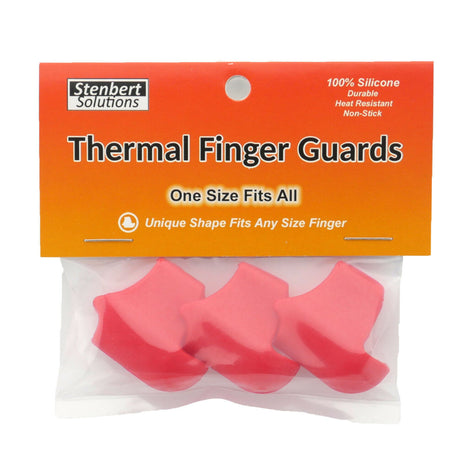 Availability:
Out Of Stock
Thermal Finger Guards - Protect Your Fingers From Heat!

These finger guards are made from Heat Resistant, Food-Grade Silicone. They are Heat Resistant to 400 degrees Fahrenheit or 600 degrees Fahrenheit for short-term exposure. The Non-Stick Properties of Silicone also make handling Sticky Tapes, Adhesives and Glues easy. The Unique and Innovative Shape Fits Comfortably on Any Size Finger, and can be put on and off easily and efficiently. These finger guards are made from Durable Silicone that is Thicker and more substantial than most competing finger guards. Plus they can be easily Washed and Reused. Each package contains 3, One-Size-Fits-All Finger Guards. Also known as a Finger Protector, Finger Thimble, Finger Cap, or Finger Cot. Specifically designed for use with Hot Glue Guns, Ironing, Binding, Pressing, and More. Use as an Industrial Safety Item, or for Art and Craft Projects, Wood burning and More. Product helps prevent burns when used with caution.

Durable - Grips to Fingers - Washable - Use Daily. Thermal Finger Guard, Finger Protector

Innovative and Unique Shape Fits Any Size Finger

Ideal for Art, Craft, and Industrial Projects

Heat and Stick Resistant Food-Grade Silicone - Non-toxic, Latex-free

For Hot Glue Guns, Ironing, Binding, Pressing, and More. Handle Sticky Tape with Ease

Choose from 3 available colors (Blue, Purple or Red)

You will receive 1 pack of 3 finger guards.